Are you still wondering how to make your ovens grab the spotlight from the market? Well, previous experience might tell you the secret to success is collaborating with oven manufacturers for ODM/OEM Projects. With specialized knowledge and expertise in designing and manufacturing ovens, the qualified oven manufacturer is a trusted resource that provides guidance and solutions. Besides, the customization services help tailor the unique products aligned to your ideas. With their assistance, you are available to promote your products based on the market's trends and your vision.
Understanding OEM&ODM Services for Oven Manufacturing
For people who have doubts about OEM&ODM services for oven manufacturing, the subsequent content is for your information.
Definition and Differentiation of ODM and OEM
ODM (Original Design Manufacturer) and OEM (Original Equipment Manufacturer) are terms used frequently in manufacturing to describe business models and company relationships. The former bears responsibility for the whole product design, development, and manufacturing process, and often, branding and marketing services are available, while the latter concentrates primarily on the production aspects. To summarize, ODM specializes in designing and manufacturing products in line with the specifications and requirements of another company or client. At the same time, OEM works to manufacture products based on client-provided designs and specifications. By offering dedicated expertise, they both assist businesses to outsource specific functions and benefit from increased flexibility.
Benefits of Cooperating with Oven Manufacturers for OEM&ODM Services
1. Cost Savings through Efficient Production Processes
With established systems, oven manufacturers for OEM&ODM services reassure you regarding efficient manufacturing, supply chain management, and quality control. Their expertise in production processes promises cost savings through economies of scale, optimized production workflows, and decreased material waste.
2. Access to Advanced Technology and Innovation
Oven manufacturers are often the ones exposed to technological advancements in the industry. Collaborating with oven manufacturers who accept cutting-edge technology helps your products outperform in the market. In this way, you leverage their knowledge and occupy the market with products with advanced features and improved performance.
For more information about best-selling toaster ovens, please read Discover the Most Desirable Electric Oven Types.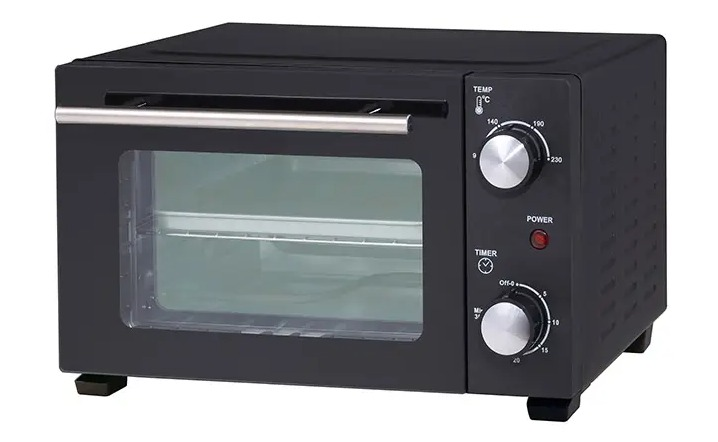 3. Reduced Time-to-Market
Partnering with oven manufacturers also makes a significant decrease in time-to-market possible because of their efficient manufacturing processes, streamlined workflows, and rapid prototyping techniques. It can not only enhance the efficiency but also boost your sales by gaining a competitive advantage.
4. Increased Scalability
Moreover, oven manufacturers are equipped with the capacity and resources to handle mass production. As your business grows or demand increases, they can satisfy your needs by providing the same premium quality ovens in time.
Steps Involved in Partnering with an Oven Manufacturer for ODM/OEM Projects
Now, are you feeling like you are in urgent need of an oven supplier? The following steps might guide you to find the right one.
Define Project Objectives
The goals and objectives of your oven project set the milestone. Typical information like product specifications, design requirements, target market, and budget constraints shall be involved.
Evaluate Oven Supplier Capabilities
Do thorough research on potential partners based on their experience, expertise, production capabilities, certifications, and reputation in the industry. Assess their resources and skills before making the final decision.
Negotiate Terms and Agreements
Reach mutual acceptance after negotiation, which should clearly state both sides' roles, responsibilities, and expectations. Specifics such as pricing, lead times, minimum order quantities, intellectual property rights, and warranty terms of electric toaster ovens should be carefully considered.
Prototype and Quality Assurance
Collaborate with the oven manufacturer to produce prototypes that fit your specifications. Apply comprehensive testing and quality assurance inspections to avoid frequent oven services after sales.
Production and Logistics
When proceeding with large-scale production, efficient production schedules are needed to ensure timely delivery of the finished products.
Weijin Electric: Your Trustworthy Oven Factory
For people looking for a long-term partnership, Weijin Electric is a reliable manufacturing partner who deserves ongoing support and collaboration. With more than 15 years of working experience in heating kitchen appliances, we have won clients' trust for our commitment to quality and innovation. Our strong R&D, design, and manufacturing capabilities make us competent to provide competitive ODM/OEM services, which have helped many high-end home appliance brands benefit.
Conclusion
Coordinating with oven manufacturers for ODM/OEM projects is promising because their strengths are tangible when the output showcases itself. Moreover, sustainable partnerships maximize the return. Our profession and passion for oven manufacturing make us confident that our products will win your heart. It can be reassured that Weijin Electric always provides premium ovens at competitive prices, and its OEM&ODM services will bring joy and satisfaction to you.