In today's fast-paced world, the kitchen has evolved into a space where innovation and convenience intersect seamlessly. Among the recent culinary marvels, the mini air fryer oven has emerged as a game-changer in the kitchen appliance industry.
Manufacturers and brands are challenged to deliver products that adapt to the demands of modern lifestyles as customer needs and market trends continue to shift. This understanding empowers them to develop products that align with evolving consumer needs, capitalize on emerging culinary trends, and ultimately maintain a competitive edge in an increasingly dynamic and innovative market landscape.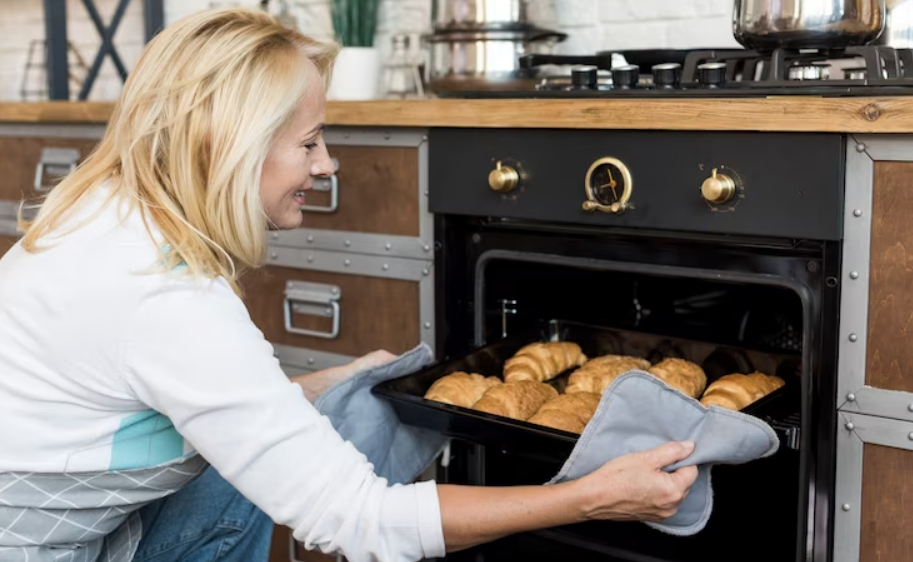 (Copyright photo from https://www.freepik.com/free-photo/medium-shot-happy-woman-baking-croissants_5878916.htm#query=Mini%20Air%20Fryer%20Oven&position=11&from_view=search&track=country_rows_v1)
The Surge in Demand for Mini Air Fryer Ovens
The recent surge in mini air fryer ovens demand can be attributed to multiple factors. Health-conscious consumers seek healthier cooking alternatives that retain the taste and texture of their favorite dishes. Mini air fryer ovens have answered this call by providing a way to indulge in crispy foods without the guilt of excess oil consumption.
Moreover, their compact size and versatility make them a valuable addition to any kitchen. Urban living spaces and smaller households find them particularly appealing due to their efficient use of space and ability to cater to various cooking needs.
Understanding Consumer Preferences for Mini Air Fryer Ovens
Understanding consumer preferences is crucial for manufacturers and brands in the mini air fryer oven market. Key features and functionalities consumers seek:
Size and Capacity
Consumers seek compact models that fit seamlessly on countertops. A balanced capacity that can accommodate various meal sizes while not taking up excessive space is appealing.
Design and Aesthetics
Aesthetics play a role in consumer decision-making, with sleek and modern designs often catching the eye. Appliances complementing kitchen décor and offering a stylish presence can influence purchasing choices.
Cooking Performance
Consumers prioritize cooking performance, looking for mini air fryer ovens to deliver even cooking results. The ability to produce crispy, golden-brown textures while retaining moisture and flavor is essential.
Ease of Use
User-friendly controls, intuitive interfaces, and preset cooking programs are highly desirable. Consumers appreciate appliances that simplify the cooking process.
Market Trends in Small Air Fryer Ovens
The market for mini air fryer ovens has witnessed several noteworthy trends and industry developments in recent times, reflecting evolving consumer preferences and technological advancements:
Current Market Trends
Health and Wellness Focus
Manufacturers emphasize features that minimize oil usage, facilitate air circulation for even cooking, and retain the nutritional value of foods.
Consumers seek versatile appliances, prompting the inclusion of additional cooking functions beyond air frying. Mini ovens now offer baking, roasting, grilling, and dehydrating options, expanding their utility in the kitchen.
Eco-Friendly and Energy Efficiency
Energy-efficient models are gaining traction as consumers become more environmentally conscious. Manufacturers are incorporating energy-saving features to reduce power consumption during cooking.
Some mini air fryer ovens adopt non-toxic and ceramic coatings for their cooking surfaces to address health concerns.
Emerging Technologies and Innovations
Precision Cooking Technology
Modern mini air fryer ovens offer advanced precision cooking technology, including adjustable temperature controls, precise time settings, and preset cooking programs. These features guarantee perfectly cooked dishes with consistent results, eliminating guesswork from your cooking process.
Improved Airflow and Heating Technology
Airflow and heating technology innovations ensure even and consistent cooking results. Enhanced fan systems and precise temperature distribution always contribute to perfectly cooked and crispy dishes.
For more details about toaster ovens with air fryers, please read Air Fryer Oven Explained: A Comprehensive Manual for Enterprises.
Weijin Electric's Compact Toaster Oven Air Fryer
In response to these evolving trends and preferences, Weijin Electric presents two exceptional mini air fryer oven models – the KA25 and KAD25.
Elevate your business kitchen with the KAD25 compact air fryer oven. Unleash culinary potential with its 22-liter capacity, 1500W power, and precision up to 230°C. From air frying to baking, its versatility redefines menus. Experience quiet efficiency, innovative features like rotisserie, and optional enhancements. KAD25: where culinary innovation meets business excellence.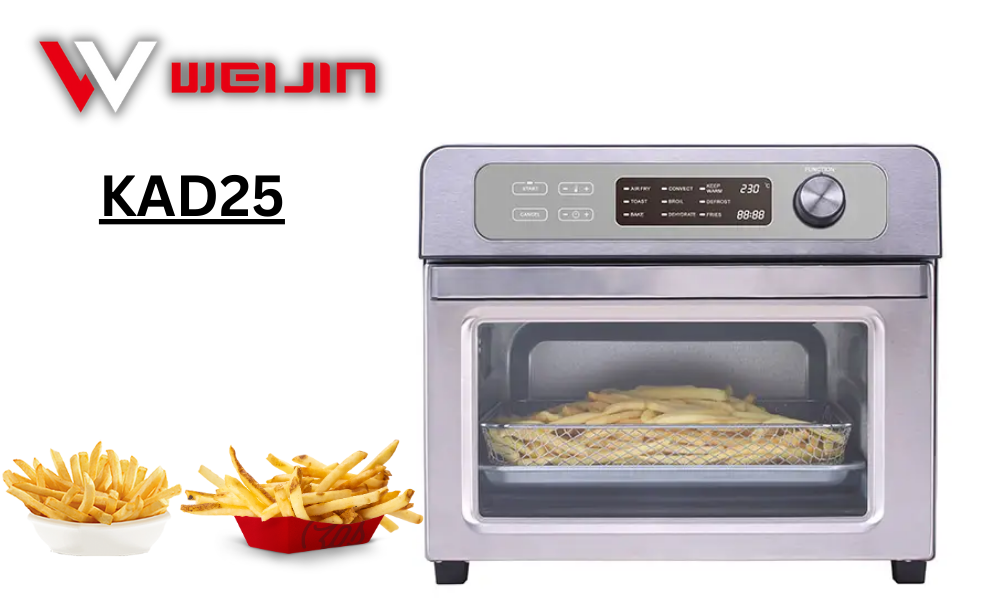 A 22-liter mechanical masterpiece for culinary innovation. This mechanical air fryer oven operates at 110-127V/220-240V~ and 1500W, offering precision up to 230°C. With six functions, including air fry, broil, baking, and more, it's a compact powerhouse. Safety features, an inner lamp, stainless steel heating, and essential accessories complete the package. Elevate your business's culinary game with the KA25.
Weijin Electric
At Weijin Electric, we bring together innovation, expertise, and unwavering dedication to redefine your culinary experiences. With a team exceeding 300 professionals and advanced manufacturing lines sprawling across 30,000m2, we craft quality culinary solutions ranging from 7L to 100L. As a provider of wholesale ODM/OEM solutions, we're committed to meeting your specific needs.
Our offerings, carrying CE/GS/EMC/CB/ETL/ERP/RoHS/REACH/Food Contact approvals, exemplify unparalleled quality. Guided by a seasoned management team with 15 years of tradition, we prioritize excellence, safety, and global standards across our diverse product range.
Explore our range of electric ovens and mini air fryer ovens designed with space efficiency in mind. Embark on a culinary journey defined by innovation and our unwavering commitment to delivering excellence.