Dual basket air fryers have gained immense popularity recently, particularly among consumers looking for versatile and convenient cooking appliances. They are capable of cooking multiple dishes at the same time, saving effort and time in the kitchen. They offer a variety of benefits that make them an attractive option for households looking to enhance their cooking experience. Read on to learn about their unique features, why they have become so popular, future market potential, product recommendations, and more.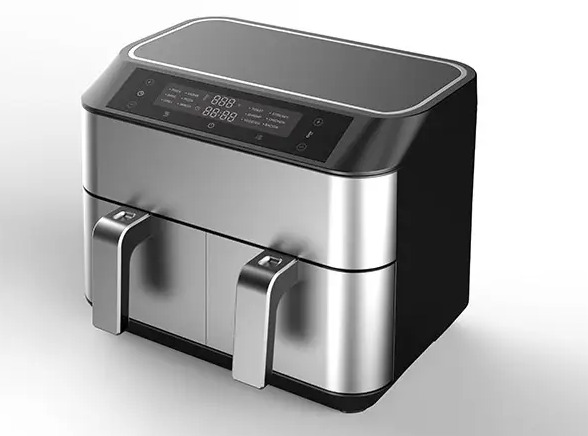 Dual-Basket Air Fryers – Overview
Dual basket air fryers are innovative kitchen appliances that are designed to mimic the cooking process of deep frying, but they use significantly less oil. As their name suggests, these appliances consist of two separate cooking compartments, which allow you to cook different dishes at the same time. They work by circulating hot air around the food, leading to evenly cooked, crispy dishes without the need for excessive oil. The unique features of these appliances include:
Two independent cooking zones to allow users to mix and match meals
Adjustable temperature control for precise cooking of various recipes
Versatile cooking options/modes, e.g., air frying, baking, dehydrating, reheating, roasting, defrosting, etc.
Enamel-coated drawers and crisper plates to facilitate even cooking and easy cleanup
Cool-touch handle and anti-slip feet for enhanced stability and safety during operation
Reasons Dual-Basket Air Fryers Are Becoming Popular
Dual basket air fryers have become very popular among consumers because of their many unique features, characteristics, and advantages. These include the following:
With the ability to cook multiple dishes simultaneously, dual basket air fryers streamline meal preparation and provide unmatched time-saving convenience. This is especially beneficial for busy individuals or households with limited time to spend in the kitchen.
Versatile Cooking Options
Dual basket air fryers provide various cooking options, making them a versatile addition to any kitchen. From juicy roasted chicken to crispy fries, these innovative appliances can handle various recipes with ease. The ability to dehydrate, bake, and defrost expands the culinary possibilities and allows users to experiment with different textures and flavors.
Larger Family-Sized Meals
Their large capacity makes dual basket air fryers ideal for preparing family-sized meals. Their ample cooking space can accommodate a substantial amount of food and eliminates the need for multiple cooking sessions.
Dual basket air fryers boast modern, sleek designs that complement modern kitchen aesthetics. Their appealing appearance adds a touch of elegance to the kitchen while also serving as a functional cooking tool.
Advancements and the Future of Double Basket Air Fryers
Dual basket air fryers are very successful among consumers, and their market demand and growing popularity are evident. These innovative appliances are expected to undergo further enhancements and improvements as technology advances. Market trends indicate a preference for smart features and connectivity options, allowing users to control the air fryers through mobile applications. Manufacturers are also likely to focus on sustainability and energy efficiency, reducing power consumption and adding eco-friendly materials.
8 Liter Air Fryer:  KF0801
Overall, dual basket air fryers are extremely beneficial kitchen appliances, and it's not surprising why they have become so popular among consumers. When considering dual-basket air fryers, be sure to choose a reliable brand that offers innovation and value for money. The seasoned appliance brand Weijin Electric is preferred by many consumers because of its vast industry experience and reputation for excellence. Our top product, the KF0801 Air Fryer, offers a variety of advantages and features that make it an appealing choice. Some reasons to choose this air fryer double basket include (but are not limited to) the following:
8-liter air fryercapacity (split into two 4-liter baskets)
2 independent cooking zones so you can mix and match meals
Variety of functions, including baking, dehydrating, reheating, roasting, air frying, etc.
Adjustable temperature control
Enamel-coated drawers and crisper plate for even cooking and easy cleaning
Cool-touch handle and anti-slip feet
Energy-efficient operation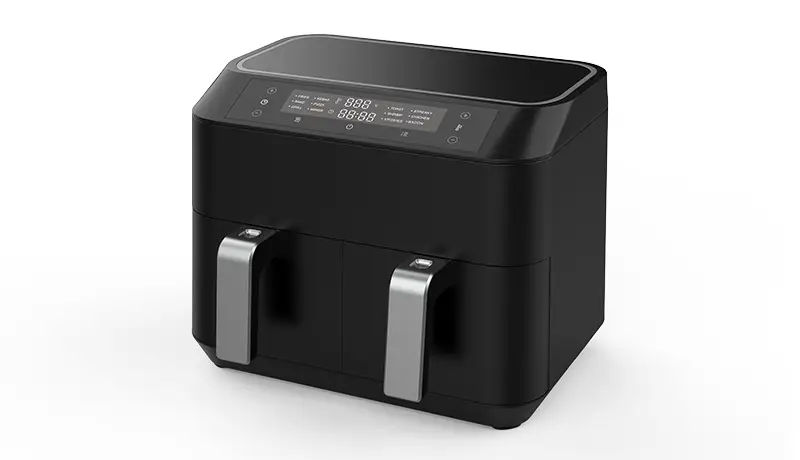 About Weijin Electric
Established in 2013, we distinguish ourselves with our industry experience and attention to detail. With six production lines, modern facilities, and a large output capacity, we ensure the reliability of innovative kitchen appliances. Our products are approved with various certifications, including CE, GS, RoHS, ERP, ETL, and more. Furthermore, we also offer ODM/OEM services for fully customizing our products, with a commitment to customer satisfaction. Visit our website to browse more products.